ANNE FINE
This is the official web site of Anne Fine, the second Children's Laureate and a distinguished prize-winning writer for children of all ages, with over fifty books to her credit. She has also written for adults to considerable critical acclaim. This site has news and information about Anne, and showcases her books.
It could be Worse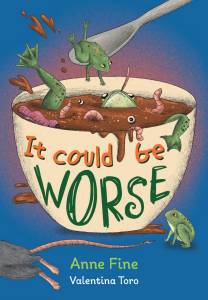 Mum and Dad are off on a trip, so Jamie has to stay with Granny for the night.
But he's never stayed away by himself before. His imagination runs wild! What are those strange noises, and silver lights?.
Anne says: "I still remember my first ever night away from home. I was terrified. Maybe because I have so many sisters, I was't used to trying to sleep alone in a strange place - my grandparents' guest room. The house was too quiet. The room smelt strange. The sheets felt different. Odd shadows lurked. Worst of all, weird slinky silver lights kept snaking silently up one wall, running across the ceiling, and down the other wall. How was I to have guessed that it was car lights shining through the wide bay window?
"I'd guess that, for most children now, it's far more likely to be excitement than fear that keeps them from sleep. But Jamie's the anxious sort, and clings to the mantra he's casually been offered by his dad: 'It could be worse.'"
Could it be worse? How? Read more about It could be Worse to find out how Jamie gets on!
Back to School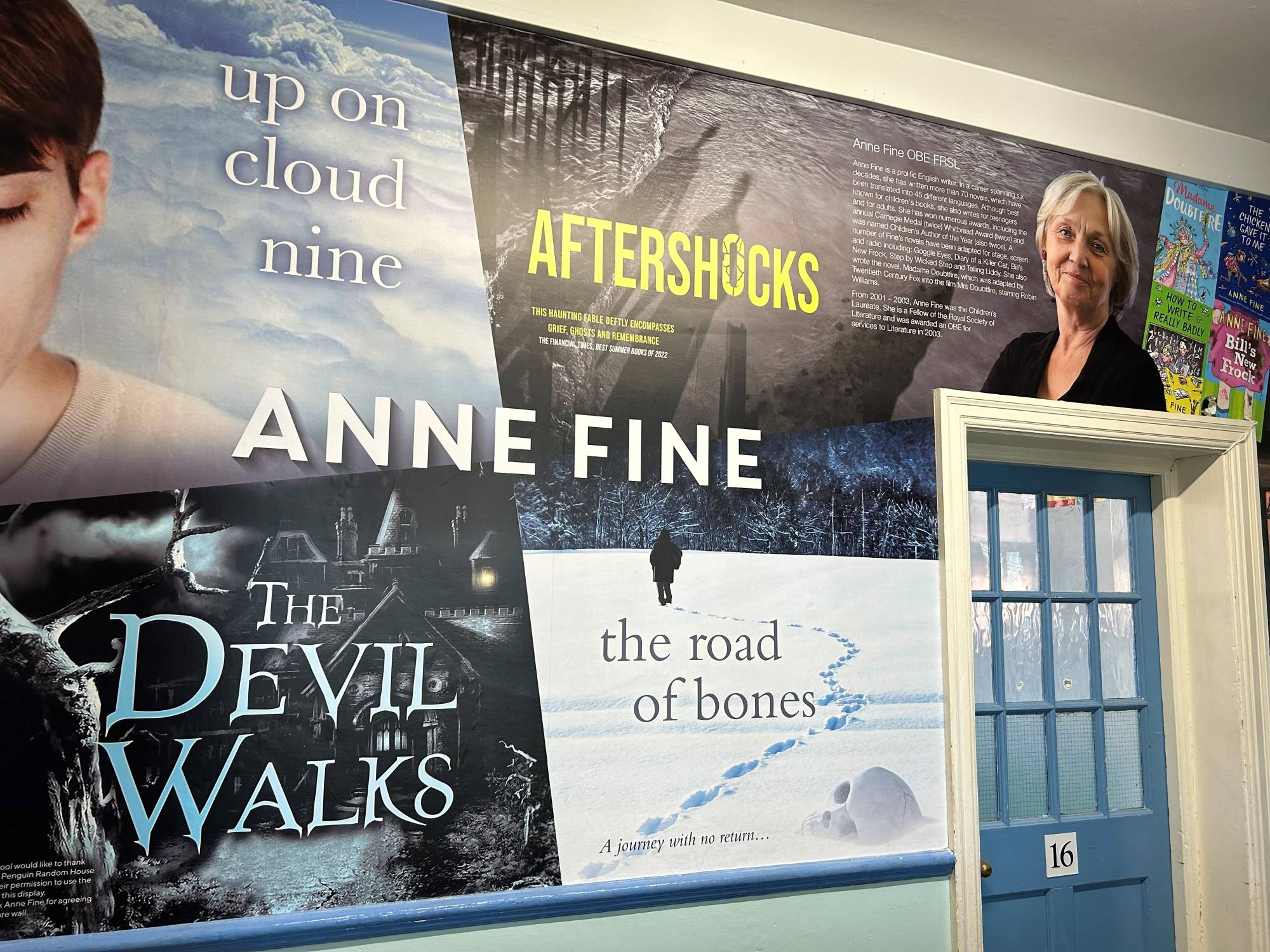 A new term is upon us, and once again Anne is amazed at the efforts to which some teachers go to encourage more and more - and wider - reading. But Stuart Wise, of the Harvey Grammar School in Folkestone has outshone them all.
Now he has sent pictures of the result, and Anne is delighted with them. She says:
Anne says

Look at this quite extraordinarily striking mural. Stunning!
It seems that Mr Wise has been designing murals for years along the school walls, and earlier this year he asked me if I'd mind being the subject of one of his displays. Mind? I couldn't wait to agree.
He's put me opposite Anthony Horowitz and between Cressida Cowell and Charles Dickens in the English corridor. Could I be prouder?
It seems any student coming to English, Film Studies or the School Library will see the displays every day. I don't see how anyone passing can resist the books they feature. I'm off to reread Hard Times and A Tale of Two Cities right now.

Aftershocks!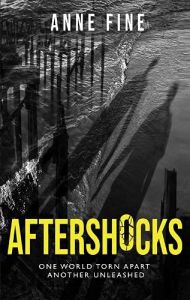 A family mix-up means Louie has to tag along with his engineer father and his team as they head for a routine job in the farthest flung and most neglected province of the Federation.
A massive earthquake, with ensuing tsunami, devastates the entire isolated coastal region, laying bare the other\-worldly manner in which the silent and strange Endlanders deal with life, death, and the hinterlands of memory and loss. Their curious and unsettling ways raise ghosts for Louie, who has recently lost his own brother.
This modern fable - part ghost story, part coming of age novel, and part astute social and family observation - explores the ways in which grief can affect not only individuals, but communities at large.
Aftershocks! was selected for the World Book Night 2023 Reading List. Anne says "What I love about World Book Night is the fact that it reaches out to many of those who don't spring immediately to mind when we think of very keen readers. I've worked in prisons and Young Offender Institutes, and often been impressed by the passion for books for some of those whose life experiences have somehow sent them up unhappy paths. I love the idea that one of my books, handed out on this special night, might end up in the hands of someone who either is a reader already and maybe a bit starved for new stuff to read, or who can be turned on. 'The right book for the right person at the right time', as we have it.
"I would love Aftershocks! to be that book for someone because, as we all know, reading both changes and enriches lives."
Aftershocks! was published on 10th February 2022, and is available in paperback. The Times made it their Children's Book of the Week, and said:
The Times
"This is an absolutely masterful tale: a futuristic ghost story about loss, love and grief, and about families and the difficult, complicated things that we all face... A beautiful, important book..."
Tiny in All That Air
'Tiny in All That Air' is the podcast run by the Philip Larkin Society for anyone who is interested in Philip Larkin. They aim to "bring you new insights into Larkin's life and writing by talking to people with fascinating stories to tell and unusual connections to the great poet himself." One episode allows everyone to hear a talk that Anne gave to the Society about "the only poet to whom I have ever written a fan letter." If you want to know why, you can listen to 'Philip Larkin - A Personal View' here.
A new adult novel from Anne Fine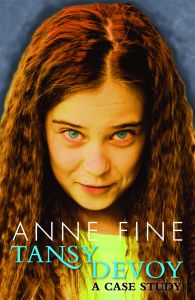 There can't be a parent in the land who couldn't cheerfully reel off a litany of the various misdeeds committed by their offspring. But what if those transgressions aren't so small? What if they sometimes appear to shade into real wickedness?
Marcia is an experienced child psychologist. But she has never come across a child like Tansy Devoy. The parental response to her probing isn't helpful. And in the desperate attempt to understand the roots of Tansy's behaviour, Marcia is forced to begin to think about one or two disturbing aspects of her own childhood.
So, forced by the system to make her professional recommendation for Tansy's future, Marcia is deeply rattled. By now she knows exactly how bad things could get if she calls this one wrong.
Anne says:

Families have always been my stomping ground...
... but I don't tend to write much about those on the extremes. I suppose I usually find quite enough interest and tension in the day to day life of essentially well-functioning homes. I've tackled families in real crisis only twice in books for older children: in The Tulip Touch, and in Blood Family. But even then, the off-the-wall behaviour of both protagonists was quite understandable, given the pressures of their childhoods.
This is a different sort of story entirely, and there is a reason why it is a novel for adults, not young people. I think it's realistic. But I have put together what has become, in Tansy's family, a truly toxic mix of a child hair-triggered to get attention any way she can, and two parents determined to keep their heads well buried in the sand. In this book, then, I am more interested in parenting than in childhood.
I know where I stand on the matter. Read it, and see what you think.

All about Tansy Devoy - A Case Study.
Jamie and Angus, Forever and Ever
With the reissue of Jamie and Angus Forever, all three Jamie and Angus books are now available in a fresh new edition. Anne Fine introduces two old friends, a little boy and his Highland bull: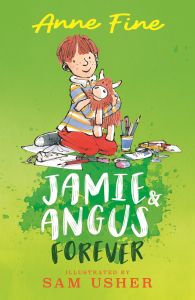 When I presented my editor at Walker Books with the first Jamie and Angus stories, her perhaps somewhat unguarded response was, 'Oh, Anne! I didn't know that you could write nice books!'
But I had never before written bedtime stories for three to six year olds, and no one wants to leave a child alone at night with disturbing, aggressive, or even too exciting, mental images. So these are short, domestic tales that cover various aspects of Jamie's daily life, always along with his favourite, and ever amenable, soft toy, Angus. (Early childhood being pretty well universal, I was proud when the first set of these stories won the prestigious Boston Globe/Horn Book Awards.)
In this, the third and last of the series, among other things Jamie wins an Eating Slowly race, finds a new and interesting Way to Cry, and, with the help of Granny, makes some Feeling-Better Spells.
The fresh illustrations by Sam Usher perfectly match the gentleness and humour of the text. My own grandchildren are now, sadly, long past this phase of life. But I hope that parents and grandparents everywhere will continue to enjoy reading the trilogy as much as I loved writing it.

Read more about Jamie and Angus Forever, and about all the Jamie and Angus stories
Figures of Speech
Anne says

Sometimes it's only when I'm asked to write a keynote speech...
"... that I marshal the time and space to put my tangled thoughts about a topic into some order. The recent United Kingdom Literacy Association conference for the teachers of English focussed on spoken language. My first thought was that, as someone who always 'sets it down', perhaps I'd have little to say.
"Fat chance. There are so many aspects that I found it hard to settle on what I thought most interesting or important. So, if you're interested, follow the link to see what I had to say.

---