ANNE FINE
This is the official web site of Anne Fine, the second Children's Laureate and a distinguished prize-winning writer for children of all ages, with over fifty books to her credit. She has also written for adults to considerable critical acclaim. This site has news and information about Anne, and showcases her books.
Shades of Scarlet
Anne introduces her new coming-of-age novel for older readers:

When Scarlet woke as a toddler, her father would often try to guess her mood: "I wonder what shades of Scarlet we'll see today." Now she's a teenager, she's even more mercurial, and far too sharp to be fooled or fobbed off. So when Mum moves out of the family home at almost no notice, and Dad just feebly lets it happen, she's furious with them both.
We follow Scarlet for only a few weeks, but in that time we get to know exactly what she thinks and feels at every moment, and how she judges each of her parents for what they do, or don't do. And since teenage feelings can be tempestuous at the best of times, that's not always pretty.
It's not all fights and tears, though. Day to day life in most homes and schools has plenty of light moments and this book, like most of my novels for this age group, has its fair share of comedy moments.
I suppose I'd become interested in that period in family life when 'Mummy and Daddy know best' is no longer always the case and the teenager may well be more clear-sighted than the adult - know who is fooling themselves for their own purposes, or blinding themselves to inconvenient truths. Naturally, parents resist the discomfort and inconvenience such overt criticism brings. In this book, both Mum and Dad have to come to see and respect Scarlet in a very different way, and realise they're no longer always in the right, and Scarlet has to start to learn the supposedly adult skills of forbearance and understanding.
In short, to start to grow up.

Shades of Scarlet has been nominated for the CILIP Carnegie Award 2022.
Read more about Shades of Scarlet - or read what Anne told the Youth Libraries Group about Scarlet (and what she's working on next).
Be Nice to Aunt Emma

I watched in astonishment as a friend's grumpy old father said the baby was ugly, endlessly criticised the toddler, and was downright horrible to her eight year old...
"But when we all piled back in the car," says Anne, "everyone seemed cheerful enough.
"'Mine would be seething,'" she told her friend. "'They'd be jumping up and down, saying how downright rude he was and that they'd never, ever come with me to see him again.'
"'Oh, they're all right,' she said. 'The baby doesn't notice. The toddler is too busy to care. And I pay the oldest one £2 a visit to keep his cool.'
"Simple enough. Almost a game, in fact.
Of course, it set me thinking. But what if the person you're paid to be nice to is playing a little game of their own?

Find out how Anne answered that question in Be Nice to Aunt Emma.
Figures of Speech
Anne says

Sometimes it's only when I'm asked to write a keynote speech...
"... that I marshal the time and space to put my tangled thoughts about a topic into some order. The recent United Kingdom Literacy Association conference for the teachers of English focussed on spoken language. My first thought was that, as someone who always 'sets it down', perhaps I'd have little to say.
"Fat chance. There are so many aspects that I found it hard to settle on what I thought most interesting or important. So, if you're interested, follow the link to see what I had to say.

A Remarkable Ear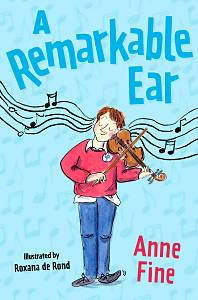 There's more than one way of being talent-spotted,

says Anne.
Will doesn't even realise he's humming and singing in the library. But Mr Brand has noticed. He even stops Will and his mum on their way out to give Will a music test. And sure enough, the toddler proves to have 'a remarkable ear'.
Later, the two meet again at Will's primary school. Mr Brand reckons it would be a crying shame if Will doesn't learn to play some sort of instrument. In this school, children learn the violin. So the violin it is.
But what is a musical boy supposed to do when everyone in the family is far too distracted to take the time to encourage him? When all the progress he makes has to be off his own bat? When his secondary school is far more sporty than musical? And when Mr Brand's way of teaching is more than a little strange?
Here's another book from Barrington Stoke - easy to read, and perfect for both dyslexic and reluctant readers of any age.
More about A Remarkable Ear and other books for solo readers.
Jamie and Angus, Together Again
Anne Fine welcomes a new look for two old friends, a little boy and his Highland bull: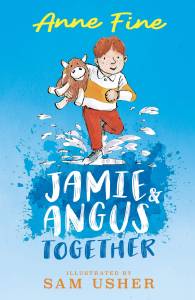 I'm guessing that anyone who follows this website knows that, of all the books I've written for younger children, the stories featuring Jamie and his precious soft toy, Angus the Highland bull, are among my very favourites.
So it's lovely to be able to tell you that the second book in this series, Jamie and Angus Together, has now been republished with wonderfully fresh, warm and funny illustrations by the brilliant Sam Usher.
Letters I get remark on what a pleasure it is to have stories to read to a child at bedtime that aren't studded with the less than soothing march of Pow! Bang! Crash! & Wallop!, but rather about the easily recognised small events in the life of almost any child of nursery school age.
But it's an interesting enough life. In this book Jamie learns to draw angry eggs, re-sorts his bookshelves in the strangest fashion, plays a most curious and confusing game of Let's Pretend with his Granny, cleverly protects Angus from a rambunctious friend, explains the mysteries of the countryside to Uncle Edward, then, writing a book called FUN FOR ONE, realises quite how much he loves and needs his faithful best friend, Angus.
Sam Usher is the artist and he's taken over from the splendid Penny Dale to do the most wonderful job. The new drawings are warm and cosy and funny, and match the tone and text perfectly. They couldn't look more enchanting and enticing.

Read more about Jamie and Angus Together, and about all the Jamie and Angus stories
Honorary Degrees
If you've ever looked at Anne's Awards and Honours page, you'll know that as well as those two Carnegie medals, and lots of other prizes for one book or another in particular, she has been awarded several honorary degrees. In fact, she started 2017 with a degree ceremony at the University of Leicester, where she was presented with a fourth Honorary Doctorate. What's it all about? Anne explains: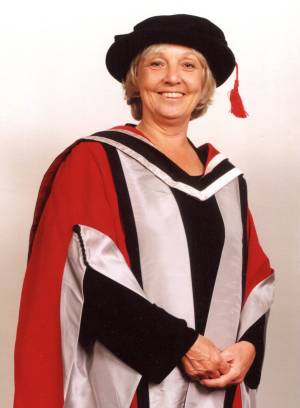 I never really grasped the point of 'honorary' degrees. After all, either the recipient knew enough to get a 'real' degree, or they didn't. Why offer one to someone who hadn't done the work?

Now I have several, I feel a good deal differently. I've realised that, as almost everyone goes through their professional life, the people around them can't help but form a view of their body of work. And if that's a positive opinion, and a prestigious institution chooses to make it both plain and public, that's inspiriting and encouraging. (After all, everyone who works hard asks themselves from time to time, "Has all this effort been worthwhile?" So it's immensely cheering to be told so openly, "Yes. Yes, it was.")

What pleases me most is that I have links with almost all the places that have honoured me. I was born in Leicester, and last week that city's university awarded me an honorary doctorate. I studied at Warwick, where I was given another some years ago. Ever since I moved to the north east, and found out how much I loved it here, I've spoken up for the area. So it was lovely to be honoured by the University of Teesside. My secondary schooling was all in Northampton, so I am especially proud of my honorary fellowship from that university. And growing up there turns me into a woman from the Midlands, so I'm proud of my doctorate from the University of Central England in Birmingham.

(Just for the record, you're given a beautifully designed degree certificate in a classy holder. And they take photos of you in the fancy official university robes and cap - I'm much less keen on those!)
---