BLOOD FAMILY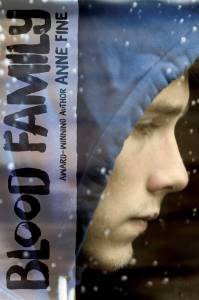 Does the past ever leave you?
Locked away by his mother's monster of a boyfriend, Edward is seven years old before a neighbour spots his pale face peering through a crack in the blocked window. Rescue soon comes, but lasting damage has been done.
Years on, it's clear to Edward's new adoptive family that something in his past haunts him still. Then Edward catches sight of a photograph that shocks him to the core.
Could there be yet another monster in his life who has been waiting to break out all along?
Blood Family won the Prix Farniente 2017 (Belgium)
It was shortlisted for the CILIP Carnegie Medal 2014,
Longlisted for the UKLA Book Award 2015
Longlisted for BASH Award 2015
Shortlisted for the Grampian Children's Book Award 2015
Blood Family was published in the US on March 21, 2017 by Simon & Schuster Books for Young Readers; available from Amazon.com or from any bookstore (ISBN: 978-1-4814-7773-4).
A starred review in Kirkus Reviews called it "A powerhouse of a story about a boy who survives."
More reviews - and what Anne says about how she came to write Blood Family.
---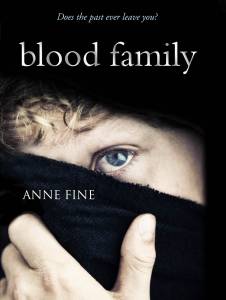 Blood Family was published by Doubleday Children's books on 4th July 2013; you can order it from

:
---
---
Anne talks about the background to Blood Family

Blood Family is almost a companion piece to The Devil Walks. I'd become interested in the difference between the sheer chance of where an unprotected child could end up a hundred years ago - for better or worse - and what happens now. The scrupulousness of modern procedures must prevent horrors in fostering and adoption; but guidelines can become so strict that sometimes the 'real' best solution for a child is no longer seen as acceptable.
I read around the subject a good deal. A child's 'journey through placement' is an extraordinarily complicated business involving so many professionals - all, it seems to me, of good will, but often hampered by procedures of which even they become sceptical.
That's why the story is told in so many voices. Everyone involved with Eddie gets their say. I learned so much about 'looked-after children' while I was writing the book. I don't see how anyone could come to the end of it without a richer appreciation of how much many of these children have to bear, how many people make huge efforts to help them through, and how at the end, to everyone's relief and sheer delight, they can still triumph.

Anne also talked about Blood Family to the Reading Zone, who made it their Teen Book of the Month.
---