Short Stories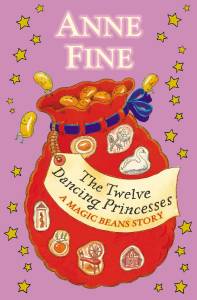 The Twelve Dancing Princesses
- a Magic Beans story
The King is at his wits' end; twelve daughters and every morning their shoes are torn to ribbons! Nobody can tell him why, so he promises that whoever uncovers their secret will inherit his kingdom. The reward is huge - but the price of failure is their head. Who will risk it all for a dance with the princesses?
This story is a magic bean. It may not look much like a bean, but I can promise you that it is. For if you plant it in a young mind, it will grow into a love of story and reading.
The Twelve Dancing Princesses was originally published in a collection of stories called Magic Beans, in which some of your favourite authors dip into the storybag, and pull out a handful of fairy tales. Anne Fine chose to write about the The Twelve Dancing Princesses - twelve sisters, even more sisters than she had herself!
Magic Beans was originally published in hardback by David Fickling Books on 10th November 2011 (ISBN: 978-0-8575-60438). You can order it from Amazon or download the Kindle edition.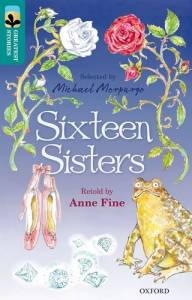 And now you can also buy The Twelve Dancing Princesses on its own, as an epub short story, from publisher Random House or download the Kindle edition from Amazon.
Or, if you enjoy Anne's retellings of fairy tales, you could read The Twelve Dancing Princesses with two more stories, Diamonds and Toads and Snow White and Rose Red in a new collection, Sixteen Sisters.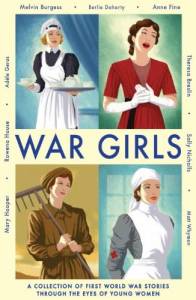 Girls at War
This new collection of short stories explores how the First World War changed and shaped the lives of women forever. A courageous nurse risks her life at the Front Line; a young woman discovers independence and intrigue in wartime London; a grief-stricken widow defends her homeland amidst the destruction of war - and all must face loss and grief, and learn new ways to live with them.
Anne Fine's Piercing the Veil joins stories by Adèle Geras, Melvin Burgess, Berlie Doherty and more in War Girls, published by Andersen on 5th June 2014; order it from Amazon, or from any bookshop (ISBN: 978-1-7834-4060-3).
As well as contributing short stories to collections like War Girls, Anne Fine has published a collection of short stories for older readers, Very Different. If you enjoy short stories, you might also like Step by Wicked Step and Blue Moon Day, two books in which individual stories add up to tell a longer story.
---