ANNE FINE
This is the official web site of Anne Fine, the second Children's Laureate and a distinguished prize-winning writer for children of all ages, with over fifty books to her credit. She has also written for adults to considerable critical acclaim. This site has news and information about Anne, and showcases her books.
Aftershocks!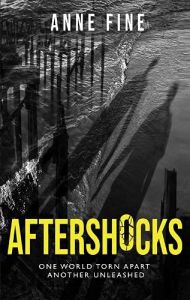 Louie never expected to visit the Endlands. that most isolated outpost of the Federation. And he certainly never imagined that, once there, someone would find a job for him to do. A most peculiar job...

Aftershocks! is a new novel from Anne Fine; published on 10th February. The Times made it their Children's Book of the Week, and called it "a weird and wonderful triumph". This is how Anne introduces it:
"A massive earthquake followed by a devastating tsunami leaves Louie and his engineer father caught up in the other-worldly manner in which the silent and strange Endlanders deal with the hinterlands of memory and loss. This raises ghosts for Louie, who has recently lost his own brother. And for his father, whose way of dealing with his precious son's death was so very different from that of Louie's mum.
"It's not the easiest of topics to handle, and I'd been avoiding it for years. Almost all authors get requests and suggestions along the lines of, 'I so wish you'd write about this difficult issue. It happens to many more people than you'd care to think.' And this is one of them..."
Read the rest of this - or read all about Aftershocks.
Jamie and Angus, Forever and Ever
With the reissue of Jamie and Angus Forever, all three Jamie and Angus books are now available in a fresh new edition. Anne Fine introduces two old friends, a little boy and his Highland bull: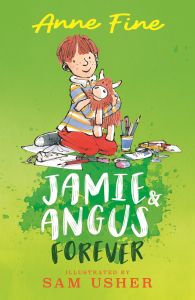 When I presented my editor at Walker Books with the first Jamie and Angus stories, her perhaps somewhat unguarded response was, 'Oh, Anne! I didn't know that you could write nice books!'
But I had never before written bedtime stories for three to six year olds, and no one wants to leave a child alone at night with disturbing, aggressive, or even too exciting, mental images. So these are short, domestic tales that cover various aspects of Jamie's daily life, always along with his favourite, and ever amenable, soft toy, Angus. (Early childhood being pretty well universal, I was proud when the first set of these stories won the prestigious Boston Globe/Horn Book Awards.)
In this, the third and last of the series, among other things Jamie wins an Eating Slowly race, finds a new and interesting Way to Cry, and, with the help of Granny, makes some Feeling-Better Spells.
The fresh illustrations by Sam Usher perfectly match the gentleness and humour of the text. My own grandchildren are now, sadly, long past this phase of life. But I hope that parents and grandparents everywhere will continue to enjoy reading the trilogy as much as I loved writing it.

Read more about Jamie and Angus Forever, and about all the Jamie and Angus stories
Create for yourself!
"There's no one way, or right way, to write a novel," says Anne. "It's what you end up with that counts. But plenty of people are curious about how others go about it. I know I am, and it's not so much that I'm tempted to copy them, even if I admire their work. More that I'm interested in how often, or how rarely, what they say chimes with my own experience."
So she is sharing this podcast. It's called Nine Twenty Nine because it's exactly nine minutes and twenty nine seconds long. The comedian and writer Eshaan Akbar was interviewing Anne about Creativity - plus some news about her next book! Anyway, says Anne, "even if nothing I say is of any interest to you, you will have wasted less than ten minutes of your time!"
Scared of a Rainbow?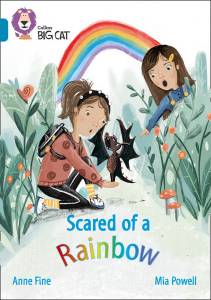 And here's an example of Anne's creative process!
"You never know," she says, "where your next idea for a book for young people will come from....
"I'd been reading the massively pruned Penguin edition of The Ultimate Ambition in the Arts of Erudition, by Shihab al-Din al-Nuwayri, which was a 9000 page, 33 volume compendium of all the knowledge in the universe, which he wrote in the Mamluk empire in the 14th century.
"Not perfect, you'd have thought, for 6-9 year olds.
"But it turned out to be a joy, full of deliciously mad beliefs. Raindrops start out the size of camels, but get filtered smaller as they fall through the clouds. If a hare so much as glimpses the sea, it will die. The chameleon panics each night when it can't see the sun.
"I invented the bad-tempered bogo (a bit like half an angry umbrella). And the creature has more mad beliefs than Ellie and Tasha can believe, a good number about the serious danger of rainbows.
I have to say it was a good deal more fun to write than the original must have been. Not to mention more than 8950 pages shorter.

More aboutScared of a Rainbow here.
Shades of Scarlet
Anne introduces her new coming-of-age novel for older readers:

When Scarlet woke as a toddler, her father would often try to guess her mood: "I wonder what shades of Scarlet we'll see today." Now she's a teenager, she's even more mercurial, and far too sharp to be fooled or fobbed off. So when Mum moves out of the family home at almost no notice, and Dad just feebly lets it happen, she's furious with them both.
We follow Scarlet for only a few weeks, but in that time we get to know exactly what she thinks and feels at every moment, and how she judges each of her parents for what they do, or don't do. And since teenage feelings can be tempestuous at the best of times, that's not always pretty.
It's not all fights and tears, though. Day to day life in most homes and schools has plenty of light moments and this book, like most of my novels for this age group, has its fair share of comedy moments.
I suppose I'd become interested in that period in family life when 'Mummy and Daddy know best' is no longer always the case and the teenager may well be more clear-sighted than the adult - know who is fooling themselves for their own purposes, or blinding themselves to inconvenient truths. Naturally, parents resist the discomfort and inconvenience such overt criticism brings. In this book, both Mum and Dad have to come to see and respect Scarlet in a very different way, and realise they're no longer always in the right, and Scarlet has to start to learn the supposedly adult skills of forbearance and understanding.
In short, to start to grow up.

Shades of Scarlet has been nominated for the CILIP Carnegie Award 2022; it is now also available in a paperback edition.
Read more about Shades of Scarlet - or read what Anne told the Youth Libraries Group about Scarlet (and what she's working on next).
Figures of Speech
Anne says

Sometimes it's only when I'm asked to write a keynote speech...
"... that I marshal the time and space to put my tangled thoughts about a topic into some order. The recent United Kingdom Literacy Association conference for the teachers of English focussed on spoken language. My first thought was that, as someone who always 'sets it down', perhaps I'd have little to say.
"Fat chance. There are so many aspects that I found it hard to settle on what I thought most interesting or important. So, if you're interested, follow the link to see what I had to say.

---