TROUBLE IN TOADPOOL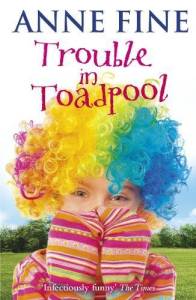 Bliss! A lovely, quiet, nothing-to-do and nothing-on-the-calendar Sunday . . .
Well, that's until Aunt Susan - an unstoppable force - is on the phone insisting that Harry and his family come down to help her a local event she's promised to organise: the Great Toadpool Show.
It means swinging from a trapeze.
Or walking on stilts . . .
Even riding a unicycle . . .
And that's not counting the fortune-telling tent, the tombola, or the choir singalong . . .
Aunt Susan has no idea of the mayhem she's about to unleash.
---
---
Trouble in Toadpool is Anne Fine's third book about the Mountfield family, She explains:

Some characters are such fun to write about that you hate to see the back of them forever. I adored writing The More the Merrier (all that fuss around Christmas made into one long joke). So then, in Eating Things on Sticks, I brought a few members of that mad family back again, to tell the chaotic story of their summer holiday on some grisly bleak island where pretty well everyone had a beard - even the women.
But now all the rest of the Mountfields seem to have been knocking on my door again. I wanted to write more about Ralph and Harry's terrifyingly rude and witchy Great Granny, their horribly bossy Aunt Susan, their irresponsible Uncle Tristram, and of course their extraordinary cousin Titania in her little cream puff frocks.
And where better to have Titania reciting her ghastly tear-jerking poetry than on the stage of the Annual Toadpool Show?
It's such a pity that - as usual when the Mountfields are about, everything - just everything, goes wrong.

---
Trouble in Toadpool was published by Doubleday Children's books on 5th July 2012; you can order it from

, using the links below:
---