THE MORE THE MERRIER
Christmas comes but once a year. Luckily...
The Christmas holiday is, traditionally, a time when families gather together.
In Ralph's case this means ten or more relatives coming to stay, including assorted aunts and uncles, nutty Great-Aunt Ida (the Home tells them to be careful not to let her out) and his ghastly cousins: Titania in her silly, sick-making frilly fairy dresses and the twins Sylvester and Sylvia (it took until Easter last year before the family dog got over them).
Jammed into one small house for three days of merriment and family fun, with the tv on the blink and Mum on the verge of a breakdown, it soon becomes obvious that, in this house, more definitely does not mean merrier...
The book is copiously illustrated with delightful drawings by Kate Aldous.
Shortlisted for Red House Children's Book Award, 2004
Shortlisted for the Calderdale Children's Award, 2003
The More the Merrier was the special 2006 Christmas Day story on BBC Radio 7's Big Toe Radio Show.
Learn what Harry and Uncle Tristram did next in Eating Things on Sticks.
Anne answers some questions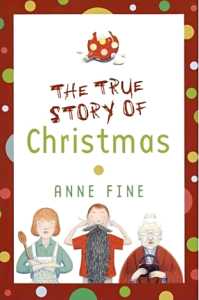 Anne, why is the book called The More the Merrier?
Well, really it ought to be called The True Story of Christmas, because that's what I think it is.
(Note: That's what it's called in the USA.)
Surely nobody's Christmas is this bad?
In some families, it's worse. In fact, the Mountfields are a very strong and happy family, nothing truly dreadful happens, and everyone will probably be invited again the year after next (if not next year). It is a comedy, after all.
But those dreadful relations! Great Granny, saying she hopes people who annoy her will get boils on their bottoms: Great Aunt Ida, who keeps seeing people floating past the windows -
They're not the worst. Sylvia and Sylvester are the twin cousins from hell. As for Titania in her ghastly frilly cream puff frocks, interrupting poor Ralph's brilliant jokes by singing her simpery songs and dancing her prissy dances. She's my favourite (as worsts go).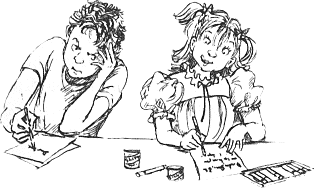 Illustration © Kate Aldous, 2003.
Ralph and Titania write their letters to Santa
Our hero, Ralph, is really quite saintly, considering.
I think this is probably the first time Ralph has seen the dark underbelly of having visitors for three whole days. Maybe because there's so much extra work at Christmas, and though Mum seems to have done most of it some is spilling over.
Uncle Tristram is so mischievous, for a grown-up. Do you know anyone like him?
The point is that he isn't really grown up at all. Even Ralph's more mature than Uncle Tristram, who gives out false beards and wrapped up half-bricks for presents, reads unsuitable things aloud from the newspapers in front of young Albert, and amuses himself hurling potatoes at Tansy's cat.
Did you enjoy writing The More the Merrier?
I absolutely adored writing it. I'd been working so hard on www.myhomelibrary.org (look and see!) and needed a change. I was chuckling away as I wrote it. I can't remember a book I've enjoyed more.
Who is your favourite character?
Ralph, of course. That's why I get him to tell the story. But I was very taken with Uncle Tristram. And Albert's rather a poppet, when he's not lolling in the bath. (But ghastly Titania and Great Granny were the most fun to write about.)
Tell us a secret, Anne. Do you like Christmas?
I can't stand Christmas. You see, the two things I hate most in all the world are being forced to have "fun", and shopping. There's so much of both, and it all drags on so long. The only thing I truly adore about Christmas is singing carols and that seems to get lost in all the busy-business of the rest of it.
Is your own family at all like the Mountfields?
We did have big family Christmases. I'm saying no more than that, for fear of my family!
Thank you, Anne.
Elsewhere, Anne writes about The More The Merrier for parents and teachers.
And The Same Old Story Every Year gives a different view of Christmas, which much younger children will enjoy.
The More the Merrier is a book for children in the middle age range. The Doubleday hardback edition was published on 4 September 2003, and the paperback edition (Corgi Children's) followed on 2 September 2004.
The US edition, with the title The True Story of Christmas, was also published in September 2003, by Delacorte Books for Young Readers (ISBN: 978-0-385-90156-7
Click the links to buy this book from

:

---