THE KILLER CAT STRIKES BACK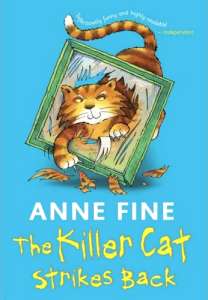 OKAY,OKAY.
So stick my head in a holly bush...

Tuffy, the killer cat, knows what he likes. And he isn't loving the 'art' that Ellie's mum brings home from her new class. So what's a cat to do?
A scratch here just happens to shred a painting. A nudge there somehow slips a clay pot off a shelf.
Dad hopes a particularly hideous sculpture will be next, but Tuffy's having none of it.
The killer cat will go his own sweet way!
Mischief and mayhem rule in Anne Fine's brilliant new story, with hilarious illustrations by Steve Cox throughout. It is perfect for developing readers aged 5-7 years.
Shortlisted for Coventry Inspiration Book Awards 2008
Shortlisted for the Rotherham Children's Book Award
If you enjoyed this The Killer Cat Strikes Back, here are some more books you might like, including all of Tuffy's adventures.
---
---
The Killer Cat Strikes Back is a book for younger readers. It was published on 4 January 2007, and the Puffin paperback followed on 31st January 2008. Click the links below to buy it from from

.
---