THE KILLER CAT RUNS AWAY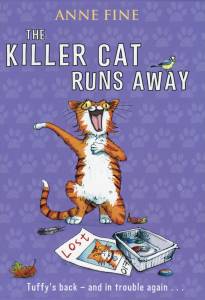 Tuffy doesn't feel wanted at home any more.
His owners just don't appreciate him.
So what if he broke the new TV? Got fur on all Dad's clean clothes? Ate Tinkerbell the kitten's special kitten-food?
All accidents!
But they're making such a fuss!
So Tuffy decides to make a break for it. He bids farewell to the gang - Snowball, Tiger and Bella - and runs away.
But starting a new life isn't easy, and soon Tuffy starts to wonder if he's made a terrible mistake ...
When Tuffy first started writing his diary, he didn't know how many friends he would make, all round the world. And he didn't know how many adventures he would go on to have. The Killer Cat Runs Away is the sixth book in the Killer Cat series; read about all the others here.
---
The Killer Cat Runs Away is a book for younger children. It was published in hardback by Doubleday Childrens on 6th Jun 2013.
Buy The Killer Cat Runs Away from

:
as a hardback (ISBN: 978-0-8575-3196-4)
And now also available in a Yearling paperback edition (published on 5th June 2014), from Amazon (or from your local bookshop or library. The ISBN is 978-0-4408-7011-1).
---