THE DIARY OF A KILLER CAT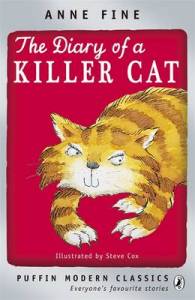 OKAY,OKAY.
So hang me.
I killed the bird.
For pity's sake,
I'm a cat.

Poor Ellie is horrified when Tuffy drags a dead bird into the house. Then a mouse. But Tuffy can't understand what all the fuss is about.
Who on earth will be the next victim to arrive through the cat-flap? Can soft-hearted Ellie manage to get her beloved pet to change his wild, wild ways before he ends up in even deeper trouble?
The hilarious antics of Tuffy and his family as told by the killer cat himself.
Winner of the Nottinghamshire Libraries Award, 1995
Winner of the Louisiana Young Readers' Choice Award for Grades 3 -5, 2009
Parents' Choice Recommended Award Winner (USA) 2006
Prix Sorcières premières lectures 1998 (FRANCE), 1998
Prix Bernard Versele (BELGIUM), 1998
If you like this book, here are some other books you might enjoy - including the further adventures of Tuffy the Killer Cat.
---
The Diary of a Killer Cat by Anne Fine is a book for younger children. It was first published in 1994.
Buy The Diary of a Killer Cat from

:
The Diary of a Killer Cat is available direct from publisher Penguin books as an ePub eBook or as a downloadable audiobook.
---