A REMARKABLE EAR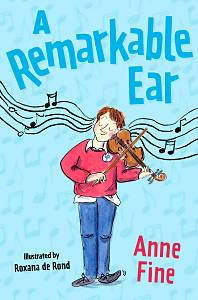 Everyone's always telling Will to stop making so much noise...
- that is, until he meets music teacher Mr Brand. He thinks Will's not just noisy but that he has a gift and must learn to play the violin.
But Will doesn't feel special. He can never find peace to practice at home and carrying a violin around school is too embarrassing. There's also the small matter of his stage fright...
Can he really become the star Mr Brand believes in?
Beloved and award-winning author Anne Fine returns with a touching, musical story of patience, practice and courage. Particularly suitable for struggling, reluctant or dyslexic readers aged 8+.
---
A Remarkable Ear, illustrated by Roxana de Rond, was published by Barrington Stoke on 1st October 2020.
Click the logo to order A Remarkable Ear from

.
ISBN: 978-1-7811-2944-9
More books for solo readers.
---