TELLING LIDDY
The Palmer sisters are close. They see each other often, they care for one another's children and houses and pets. They lend each other books, spare heaters and clothes for special occasions. Their phones ring in a ceaseless chat about in-laws and job plans and anxieties and triumphs. They never keep any secrets from each other - until now.
Stella tells Bridie a rumour she's heard about Liddy's new boyfriend. Bridie is shocked, and discusses it with Heather. But should they tell Liddy, and risk ruining her new-found happiness? Bridie persuades her sisters that they should, but when Liddy reacts badly, the other two backslide and Bridie becomes the outcast, bereft of the sisterly support system on which she has based her whole life.
Telling Liddy was dramatised for BBC Radio 4's Woman's Hour.
---
Reflecting on the new Kindle edition of Telling Liddy, Anne said:
People can vow to give up alcohol or cigarettes or cake, and next day they'll be at it again. Family rifts are quite different. Resentments breed and grow until the day that you hear someone say, "I'm never, ever speaking to her again!"

And, sure enough, they don't.

Telling Liddy dissects just such a fall-out. I loved the 'unpicking' nature of the story, which appealed to everything that fascinates me about the complicated emotional and moral refractions in families. Who's more to blame depends upon exactly where you start the accounting, and what you value in life. It doesn't help that family members often have nothing in common, and would even dislike or despise one another if they met as strangers at a party.

The book apparently causes huge arguments in book groups, with people taking sides almost as virulently as if they were the sisters in the story. I reckon you can tell a lot about someone from how they respond to this novel...
---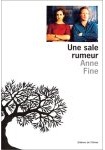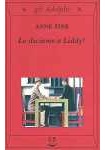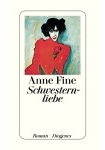 ---
Telling Liddy is a novel for adults. It was first published in hardback in i1998, ISBN: 978-0-552-99910-6
Buy Telling Liddy from

Telling Liddy has been translated into French, German and Italian.
---