"IT MOVED!"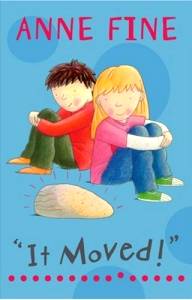 Why is Peter jumping up and down in a fury? Why is Sarah being so sarcastic? Can it be something to do with a lumpy old stone just lying there in the middle of the playground?
Indeed it can. Because Lily didn't know what to bring in for her turn at Show and Tell. She didn't want to bring her chocolate bunny in case her classmates nibbled it. She didn't want to bring her puppet in case its strings got tangled.
So she brought in a stone. And when they asked her what was special about an old stone, she told them.
"It moves."
Well, does it? Can it? And will it again?
An easy-going read in 5 chapters for anyone from 5 to 8 years old.
Chosen as the Overall Book of the Year (2005 - 2006) by Betty Bookmark, a web site specialising in the promotion and evaluation of books and learning materials.
---
---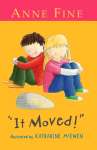 "It Moved!" is a book by Anne Fine for younger children, with illustrations by Katharine McEwen. It was published in April 2006, and the paperback followed in July 2007.
Order "It Moved!" from

:
---