GENIE, GENIE, GENIE
Anne Fine's three Genie books first appeared between 1989 and 1991. Now they are united in a single 160-page volume from Egmont, with the original line drawings by David Higham.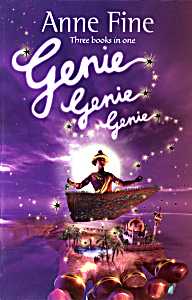 A Sudden Puff of Glittering Smoke
Jeanie finds a ring on her way to school. In the middle of class she gives it a rub and a genie appears on her desk.
Suddenly everything she wants seems within reach - until she finds that this is a grumpy genie with a very different view of the world from her own ...
A Sudden Swirl of Icy Wind
Banished to the junk room for upsetting his granny, William accidentally releases Mustapha the genie from an old bottle.
Mustapha tells William the exciting story of the brave seafarer, Captain Flook, a story which helps William to see that his grandmother is not as unfair as he thought ...
A Sudden Glow of Gold
Banished to tidy his cluttered bedroom, Toby comes across a forgotten brass lamp. He gives it a rub and out pops Hasan, a genie with a terrible temper and a craving for sherbert.
Together they board Hasan's flying carpet for a thrilling trip to ancient Arabia, where they discover that there's quite a difference between need and want.
A Sudden Puff of Glittering Smoke was first published in 1989, A Sudden Swirl of Icy Wind in 1990 and A Sudden Glow of Gold in 1991. The trilogy was first brought together in an omnibus edition with the title Genie, Genie, Genie in 1992. For children in the middle age range.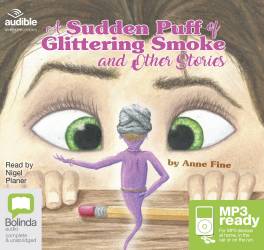 You may be able to buy a secondhand copy of Genie, Genie, Genie from

in the Egmont paperback edition, or ask a bookshop or library to find you a copy, (ISBN: 978-1-4052-1202-1).
The complete unaridged text is also available as an audiobook, under the title A Sudden Puff of Glittering Smoke and Other Stories read by Nigel Planer: download it from Amazon, or order the CD.
Anne talks about the original 'Genie' trilogy

I'm at my happiest reading, so there has to be a reason for me to stir myself and get writing. But one day I realised that the Scottish primary school syllabus my daughters were following had no geography or history. They were entirely ignorant of foreign lands and different cultures.
Heigh ho. Out with the pen.
That's why I wrote A Sudden Puff of Glittering Smoke. Then my agent said, "You do realise you'd get a far better deal if this were the first of a trilogy?"
News to me. But I thought I would give it a go and the resulting short books feature three very different genies from, in turn, a ring, a lamp, and a bottle.
A Sudden Puff of Glittering Smoke shows the richness of ancient cultures in other lands. The idea for the second, A Sudden Swirl of Icy Wind, came when my mother found her six year old grandchild testing out his new Christmas pop gun by firing at the shepherds and the three wise men in her crib on the sideboard. "I want him to stop," she said. "It's upsetting me. But I don't know how to explain why." And somehow that set me off on the story of Captain Flook, who learned how to respect other people's religious practices.
It took forever for the third idea to come. But A Sudden Glow of Gold is my favourite of all, and reads, I hope, like something from the Arabian Nights. Indeed, scattered through all three stories are Persian proverbs from a Victorian collection I came across purely by chance in the library and may have been the first to open for sixty years. The proverbs colour the stories, and still, all these years later, people come up to tell me how they were haunted - maybe even changed - by this old saying, or that:
Life is a splendid robe: its only fault is its short length.
Riches are like camel dung: they do no good till they're spread.
Where Hope is lost, Patience must reign.
Nobody calls his own buttermilk sour.
No family rocks only angels in its cradle.
I have fled from the rain and sat down again under the waterspout.
The wise man raises his roof beam before he brings home his camel.
Far easier to build two palaces than to keep one tidy.
Here, steeped in the culture of the time, is wisdom. ("Wisdom walks slowly, but her steps are sure.") And still it's dripping down to every child in Britain who takes these books from the shelf, or studies them in projects on other lands. The book I found them in will have been chucked out years ago. (Some librarians can be all too quick to get rid of books they no longer believe to be 'relevant'.)
But the more we know about old times and think about what lives have been like before, the more we think about what lies beneath our own so often rushed and unthinking days.

---