FROZEN BILLY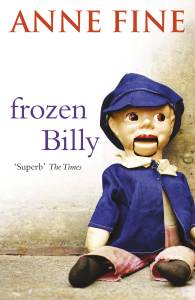 I hate Frozen Billy - his painted, staring wooden eyes, the way his eyelids click when Uncle Len pulls a string, his long thin legs and his bright red wooden mouth...

Clarrie and Will live with their Uncle Len - a brilliant ventriloquist in the nearby music hall. But though Len loves his act almost as much as he loves his beer, Top Billing is out of his grasp until Will thinks up a way to double the drama with a new act and some extraordinary new patter that he and Frozen Billy can share on stage.
It's a grand idea, hatched in hope and excitement. But, to Clarrie's horror, soon it begins to turn terribly sour...
Anne Fine's novel combines her trademark humour, engaging characters and flawless prose to produce a spooky adventure set in the late-Victorian world of the music hall.
Frozen Billy was shortlisted for the Lancashire Fantastic Book Award 2006.
---
---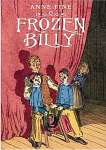 Frozen Billy is a book for children in the middle age range. It was first published on 2 September, 2004.
The US edition was published on October 31st 2006.
Use the links to order Frozen Billy from

, or ask your local bookshop or library to order it for you (the ISBN will help them to do this):
---