JAMIE AND ANGUS FOREVER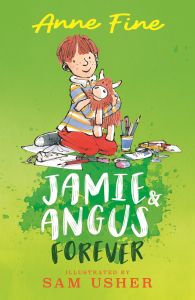 As best friends should, Jamie and Angus share everything.
Join them as they have fun at their birthday party, think up some new ways to cry, and deal with a naughty pet gerbil!
These playful stories are full of charming and amusing incidents from everyday life - like when Uncle Edward delivers Jamie's birthday present of a box full of party poppers (to Mum and Dad's delight!), or when Jamie gets over his frustrating day with a very messy session of bashing clay!
This is the third delightful collection of stories about Jamie and his toy highland bull, which are brought to entertaining life by Sam Usher's wonderful illustrations.
Praise for The Jamie and Angus Stories:
---
Jamie and Angus Forever is a book for younger readers. The new edition was published by Walker Books on 7th April 2022. Click the logo to order it from

; or from your favourite bookshop or library (the ISBN: 978-1-4063-9680-5 may help them to find it for you).
Jamie and Angus Forever follows The Jamie and Angus Stories (which won the 2003 Boston Globe Horn Book Award in the USA) and Jamie and Angus Together. (Shown below, the original editions, illustrated by Penny Dale).
---