FLOUR BABIES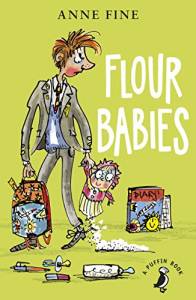 Let it be flour babies. Let chaos reign.

When the annual school science fair comes around, Mr Cartright's class don't get to work on the Soap Factory, the Maggot Farm or the Exploding Custard Tins. To their intense disgust they get the Flour Babies — sweet little six-pound bags of flour that must be cared for at all times.

Winner of Carnegie Medal 1993
Winner of Whitbread Children's Novel Award 1993
Highly Commended Sheffield Children's Book Award 1993
Shortlisted for WH Smith Mind-Boggling Book Award 1993
Birmingham TSB Children's Book Award, 1995
Shortlisted for Coventry Inspiration Book Awards (Our Favourite Classics) 2013
U.S.A. Awards
Boston Globe/Horn Book Award Honour Book 1994
School Library Journal Best Book of 1994
American Library Association Notable Children's Book
---
---
Flour Babies is a book for older children. It was first published in 1992.
It has been adapted as a playscript, published by Collins Drama (ISBN: 978-0-00-330312-4).
---