RAKING THE ASHES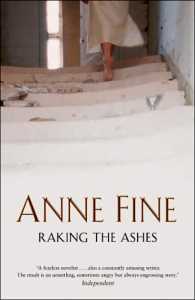 Lovers, colleagues, family — Tilly has always been brilliant at pushing people in and out of her life exactly as it suits her. Then along comes Geoffrey, gentle, compassionate, generous to a fault, with his miserable little children and his manipulative ex-wife.
Tilly's own expertise in the arts of deception and avoidance should be enough to make sure she's always one step ahead of Geoffrey's crumbling family. But time and again she finds herself staying, brought down by their cowardly backsliding and their barefaced lies.
How has she managed to stay so long in a relationship she knows perfectly well has to be doomed?
More importantly, how can Tilly plan her permanent escape?
Anne Fine's sixth novel is a coruscating comedy written with her trademark wit, insight and grimly dark humour about the ties that bind more savagely than any other — those of families.
Anne was interviewed on Woman's Hour by Jenni Murray, who said that the lead character, Tilly, was "one of the most extraordinary female characters in literature", adding "It's a very funny book." You can hear the whole interview via this page on the BBC website.
---
---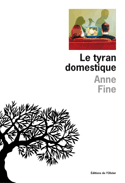 Raking the Ashes, a novel for adults by Anne Fine was published on 1 April 2005 ISBN 0593054121 £16.99
Also available in French translation, as Le Tyran domestique.
Order Raking the Ashes from

:
Raking the Ashes is also available in an Ulverscroft large print edition
---