AFTERSHOCKS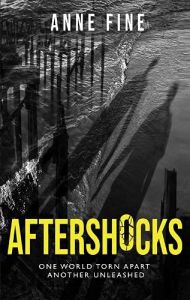 A family mix-up means Louie has to tag along with his engineer father and his team...
...as they head for a routine job in the farthest flung and most neglected province of the Federation.
A massive earthquake, with ensuing tsunami, devastates the entire isolated coastal region, laying bare the other\-worldly manner in which the silent and strange Endlanders deal with life, death, and the hinterlands of memory and loss. Their curious and unsettling ways raise ghosts for Louie, who has recently lost his own brother.
This modern fable - part ghost story, part coming of age novel, and part astute social and family observation - explores the ways in which grief can affect not only individuals, but communities at large.
Aftershocks was nominated for the Yoto Carnegie Award 2023. It was selected for the World Book Night 2023 Reading List.
---
Aftershocks is a book for middle readers; it was published by Old Barn Books on 10th February 2022.
---
Anne introduces Aftershocks, and tahks about how she came to write it:

Louie never expected to visit the Endlands. that most isolated outpost of the Federation. And he certainly never imagined that, once there, someone would find a job for him to do. A most peculiar job...
A massive earthquake followed by a devastating tsunami leaves Louie and his engineer father caught up in the other-worldly manner in which the silent and strange Endlanders deal with the hinterlands of memory and loss. This raises ghosts for Louie, who has recently lost his own brother. And for his father, whose way of dealing with his precious son's death was so very different from that of Louie's mum.
It's not the easiest of topics to handle, and I'd been avoiding it for years. Almost all authors get requests and suggestions. 'I so wish you'd write about this difficult issue. It happens to many more people than you'd care to think.' And this is one of them...
I know how important it is for readers not to feel alone. So I had thought so often about tackling the subject of grief. The death of a child is the worst any parent can face in a lifetime. The loss of a parent or sibling can prove all but crippling to a child. But I had never found a way to start.
Then, watching after one particular death that was far, far too close to home, I came to understand a little better about the fall-out for a family. And out of the blue, I read an article about the strange events reported by the survivors of a massive disaster. As so often with the genesis of a novel, things shifted in my brain and I thought of a way in which to explore, not just the the ways in which grief can affect individuals, but also communities at large.
This is a coming of age story that I hope is a successful blend of strangely ghostly atmosphere, along with important insights into human behaviour. Yes, the book deals with something horribly difficult and sad. But I would argue that, though the author's job is essentially simply to provide 'a good read', most of us find that, over and above that, we're also trying to interpret this world to the young people who read us - to unravel and illuminate their situations, or those of others around them, and, with luck, offer something in the nature of a hope to cling to, a line to take, even a way to go.
I know from experience that, if a book's too much you, you'll close it - maybe come back later, when you're more ready. But I truly hope this is a gripping story that will leave you both more enlightened, and with the usual robust hopes for the future that I make a point of always trying to offer.

---