MADAME DOUBTFIRE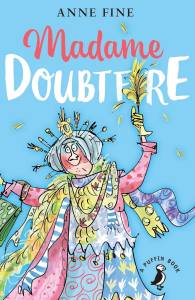 A vast apparition towered over her on the doorstep. "I'm Madame Doubtfire, dear."
Lydia, Christopher and Natalie Hilliard are used to domestic turmoil and have been torn between their warring parents ever since the divorce. That all changes when their mother takes on a most unusual cleaning lady. But there's more to Madame Doubtfire than domestic talents.
Shortlisted for Observer Teenage Fiction Prize 1987
Shortlisted for Whitbread Children's Novel Award 1987
Runner-up for Guardian Children's Fiction Award 1987
---
---
Madame Doubtfire is a book for older children. It was first published in 1987, and inspired the highly successful film Mrs Doubtfire.
It was published in the US by Starfire, with the title Alias Madame Doubtfire; this edition is now out of print.
Click the logo to buy Madame Doubtfire from

or order it from any bookshop or library, quoting the ISBN: 978-0-440-47350-3;
or click here to download the Kindle edition.
---