MADAME DOUBTFIRE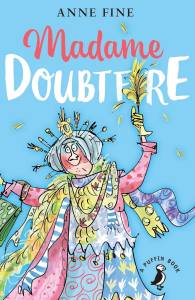 A vast apparition towered over her on the doorstep. "I'm Madame Doubtfire, dear."
Lydia, Christopher and Natalie are used to domestic turmoil. Their parents' divorce has not made family life any easier in either home.
The children bounce to and from their volatile mother, Miranda, and their out-of-work actor father, Daniel.
Then Miranda advertises for a cleaning lady who will look mind the children after work - and Daniel gets the job, disguised as Madame Doubtfire.
Shortlisted for Observer Teenage Fiction Prize 1987
Shortlisted for Whitbread Children's Novel Award 1987
Runner-up for Guardian Children's Fiction Award 1987
---
---
Madame Doubtfire is a book for older children. It was first published in 1987, and inspired the highly successful film Mrs Doubtfire. A new Puffin edition was published on 2nd July 2015.
The US edition, published by Starfire under the title Alias Madame Doubtfire is now out of print.
Click the logo to buy Madame Doubtfire from

or order it from any bookshop or library, quoting the ISBN: 978-0-440-47350-3;
or click here to download the Kindle edition.
---