ANNE FINE
This is the official web site of Anne Fine, the second Children's Laureate and a distinguished prize-winning writer for children of all ages, with over forty books to her credit. She has also written for adults to considerable critical acclaim. This site has news and information about Anne, and showcases her books.
A different kind of family
Anne Fine writes brilliantly about all kinds of families: "I'm fascinated by families," she says. There are the kind you'd quite like to be part of, even if they do cause chaos wherever they go - as the Mountfield family do in Trouble in Toadpool. And then there are the kind you can't wait to get away from. But can you ever really escape from your family?
Anne's next book, Blood Family, asks how important blood family is in making you who you are. Edward is four years old when he is locked away with his mother by her abusive, alcoholic partner, Harris. By the time an elderly neighbour spots his pale face peering through a crack in the boarded-up window and raises the alarm, he is seven.
Edward is sent to live with a kindly foster family, and then adopted, but it's still clear to his new family and schoolmates that there's something odd about him. Who are his real family, and what sort of person will Edward grow up to be?
Blood Family will be published by Doubleday Children's books on 4th July; read more about it here.
Not born a bookworm?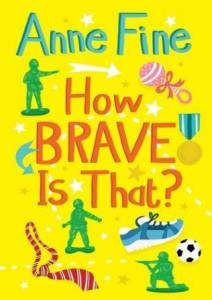 Anne Fine knows that some children take to reading like ducks to water - and some don't! They are just as bright and sophisticated as others their own age, but the way their brains work doesn't mesh well with the decoding of the printed word. It's a real challenge for an author to offer them good stories that can win them round to being happy with reading.
They'll find plenty to enjoy in Anne's books, of course, but this summer brings some new titles especially written with reluctant readers in mind. Tom wants to join the army, but he has to pass his exams first - and that might test his courage more than he expects! How Brave is That? was published on 15th May.
Read more about How Brave is That?, or read what Anne says about writing books for reluctant readers.
Anne Fine in person
Anne will be talking about Blood Family at the Borders Book Festival at 1.45 on Saturday June 15th, along with Eleanor Updale. Come along, and hear two authors compare notes on how they go about researching and creating thought-provoking stories that jump off the page. Tickets are £5, and are available for online booking - or buy a day pass to the Family Book Festival!
The Devil Steps Onstage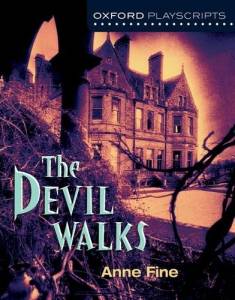 Anne Fine has adapted her gothic thriller, The Devil Walks into a playscript, which has just been published by Oxford University Press. She says:
I love adapting my own novels into plays. I'd hate to be responsible for anyone else's work. I'd imagine them hovering over my shoulder, begging me, "Oh, please don't take out that! No, don't change that!"

But what works in a novel so often doesn't work in a dramatic reading, or on a stage. If it's my own work then I know I can be ruthless. I feel quite free to slash out whole chunks, and twist scenes round so they work better. I'll do away with complicated subplots, and tinker with the timing of the story.

I'll do whatever works.

Only two things must stay the same. One is the mood of the work. The Devil Walks is a gothic tale set long ago. Mostly I write realistic novels set in the present day. But suddenly I felt an urge to write a brooding and malevolent chiller-thriller with a real villain, and this was it.

The other thing I like to keep the same is all the characterisation. Daniel is still the boy he was in the book, well-meaning and determined, if horribly confused by all the mysteries surrounding him. His stiff and tragic mother remains the same. And so does Captain Severn, a man so mercurial that Daniel cannot fathom his true nature.

People who read one of my books, then the play version, often ask, "Why on earth did you cut out that bit?" (Luckily, I can usually recall the reason.) People who read the play and then the book say, "It never occurred to me that there could be so much more in the original story."

I expect that's why I am essentially a novelist, not a playwright.
Read more about The Devil Walks.
Don't Cut Libraries!
Anne Fine has joined the campaign to persuade local councils not to cut library services. She told The Teesdale Mercury that making libraries a target for spending cuts is "almost immoral."
"In a recession libraries become even more important. They are a haven for older people, a focus for families, and for unemployed people it's a place where people can try to get their lives back on track. To cut library services is short-sighted and in the long run it will cost more than it will save. There will be more depression and vandalism. In social care it will cost so much more."
---