ANNE FINE
This is the official web site of Anne Fine, the second Children's Laureate and a distinguished prize-winning writer for children of all ages, with over forty books to her credit. She has also written for adults to considerable critical acclaim. This site has news and information about Anne, and showcases her books.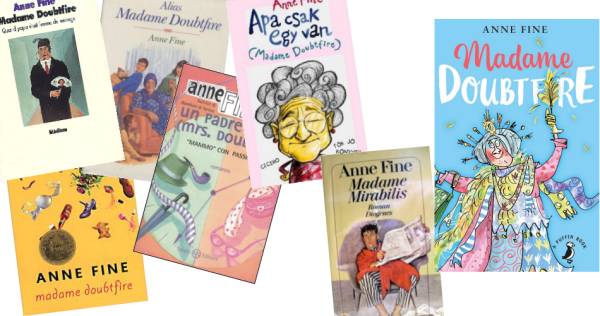 Madame Doubtfire: a modern classic

Every author secretly hopes each book they write will turn into 'a classic' - a book loved by many over a long period of time" says Anne.
"So it's a huge boost to find my novel Madame Doubtfire out on the shelves this month in a brand new format and with a gorgeously appealing new cover by Mark Beech (on the right in the montage above).
So many people of all ages love this book. I think that's because it deals so honestly with a very real family in a very difficult situation. It doesn't try to hide the problems of separation and divorce. It faces up to the ugly emotions that can so easily surface when the happy and settled life everyone in the family had hoped for hits the rocks.
But the comedy keeps the topic bearable, and the story ends with a sense that things can, and will, get better for everyone. It's a message so many people have needed since the book was first published in 1987. I'm proud it has become a Puffin Modern Classic. It's a lovely fresh facelift I hope will bring in a whole new generation of readers.

Listen to Anne on Woman's Hour talking about the new Puffin edition of Madame Doubtfire, reading, writing and who looks after the cello.
Read more about Madame Doubtfire.
Join the Club!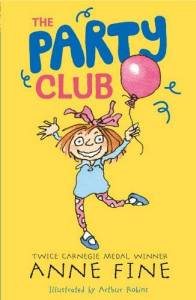 Did you join Nag Club, and learn how to get your own way? Did you join The Only Child Club to find out what it would be like to have brothers and sisters? Then it's time for a party!
Anne Fine says:

It's astonishing how much children differ.
One seven year old is so sophisticated that he wants two mates to come with him to a film, then slide out for a pizza. The child in the desk beside him is already counting the days to the next streamer-ridden, cup-cake studded, game-crazy, themed home party. Part of the amusement of writing this book came from highlighting the rising hopes of Rosie's exhausted parents as the idea of something other than the traditional party gradually seeps round the class.
I loved writing Nag Club, and maybe because so many children are such professional naggers, it's been a joy to see how well it goes down in schools. Then came The Only Child Club - also a good laugh. So it's lovely to have completed the trio with The Party Club - which, like the other two, offers the pleasure of wry moments of recognition for parents as well as young children.

The Party Club is now available in paperback; read more about The Party Club here.
Blue Moon Day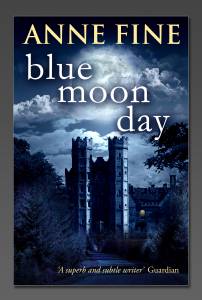 Most authors like me are invited to all sorts of places to talk about books: libraries, conferences and schools of every description.
I've been in dozens of boarding schools, met young people who go to schools for the blind and often visited the Young Offenders' Unit (a kind of junior prison) near to my house. Over the years I must have met hundreds of children who've ended up being schooled, for one reason or another, away from home.
I wanted to write about why some of these young people are there, and how they feel about it.
Once in a blue moon, Sam skips school, and on this particular day reads a book that's been gathering dust on the bookshelf. AWAY FROM HOME, it's called, and ten very different people of the same age as Sam tell, from the heart, their very different stories.
Curious? Then read Blue Moon Day. And find out what life away from home is really like for someone just like you.

Adèle Geras, An Awfully Big Blog Adventure
Blue Moon Day was published on 9th October 2014; Read more about it here.
Prix Sorcières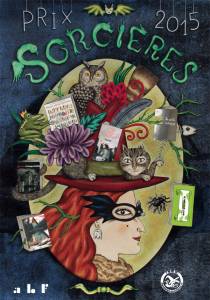 Anne was delighted to learn that Le Passage du Diable (the French translation of The Devil Walks has won the Prix Sorcières in the Older Readers category. The announcement praised the book, saying "Anne Fine, flirtant avec les genres fantastique et gothique, distille petit à petit une atmosphère mystérieuse et angoissante. La fluidité du texte emporte inexorablement le lecteur dans l'ambiance trouble et pesante des sombres secrets de cette maison de poupée..."
The Prix Sorcières is awarded by the children's literature specialists among the booksellers and librarians of France. Anne has already been a winner in a different age category, with Le Journal d'un Chat Assassin in 1998.
Read more about Anne Fine's books in France / Les Livres d'Anne Fine traduits en français.
Whose side will you be on?
Anne was thrilled, last autumn, when the very last of her eight adult novels joined the Great March of Progress. Since September 1st 2014, Telling Liddy, In Cold Domain, The Killjoy and Taking the Devil's Advice are also all downloadable. And that set Anne looking back on those previously hard-to-find novels. Here's what she had to say about Telling Liddy: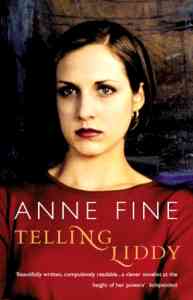 People can vow to give up alcohol or cigarettes or cake, and next day they'll be at it again. Family rifts are quite different. Resentments breed and grow until the day that you hear someone say, "I'm never, ever speaking to her again!"

And, sure enough, they don't.

Telling Liddy dissects just such a fall-out. I loved the 'unpicking' nature of the story, which appealed to everything that fascinates me about the complicated emotional and moral refractions in families. Who's more to blame depends upon exactly where you start the accounting, and what you value in life. It doesn't help that family members often have nothing in common, and would even dislike or despise one another if they met as strangers at a party.

The book apparently causes huge arguments in book groups, with people taking sides almost as virulently as if they were the sisters in the story. I reckon you can tell a lot about someone from how they respond to this novel...
Anne has more to say about writing books for adults here.
The Killer Cat Runs Away

So what if I broke the new TV? Got fur on all Dad's clean clothes? Ate Tinkerbell the kitten's special kitten-food?
All accidents!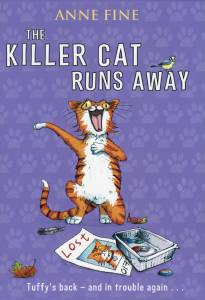 Meet Tuffy, the Killer Cat.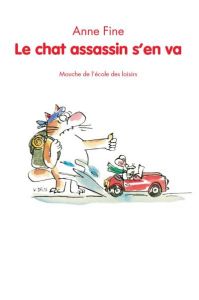 You thought you already had? Is that because you've read the books in which he causes such awful mayhem? Well, now he's back. Not spruced up, exactly. I wouldn't go that far. Steve Cox has handed over the illustrations to Thomas Docherty, so if you think that he looks a tiny bit different, you're right. But inside he's the same old Tuffy - driving Dad crazy, upsetting Ellie, and leaving the usual trail of chaos wherever he goes.
And in this book Tuffy does go a whole lot further than usual. Find out what happens when he decides there must be somewhere in the town where he'll be appreciated more, and treated better ...
The Killer Cat Runs Away now out in paperback!
Of course, in his own way, Tuffy is a very well-travelled cat. He has friends all over the world who want to keep up to date with his adventures. His latest escapade has already been translated into French, and there are Killer Cat books in German, in Italian, in Icelandic - and more!
---