ANNE FINE
This is the official web site of Anne Fine, the second Children's Laureate and a distinguished prize-winning writer for children of all ages, with over forty books to her credit. She has also written for adults to considerable critical acclaim. This site has news and information about Anne, and showcases her books.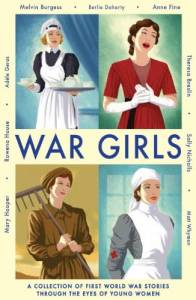 Girls at War
This new collection of short stories explores how the First World War changed and shaped the lives of women forever. A courageous nurse risks her life at the Front Line; a young woman discovers independence and intrigue in wartime London; a grief-stricken widow defends her homeland amidst the destruction of war - and all must face loss and grief, and learn new ways to live with them.
Anne Fine's Piercing the Veil joins stories by Adèle Geras, Melvin Burgess, Berlie Doherty and more in War Girls, coming from Andersen on 5th June; already available for advance order from Amazon, or from any bookshop (ISBN: 978-1-7834-4060-3).
The Killer Cat Runs Away

So what if I broke the new TV? Got fur on all Dad's clean clothes? Ate Tinkerbell the kitten's special kitten-food?
All accidents!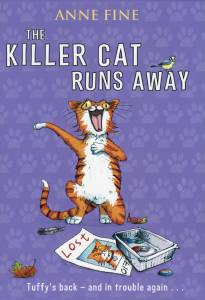 Meet Tuffy, the Killer Cat.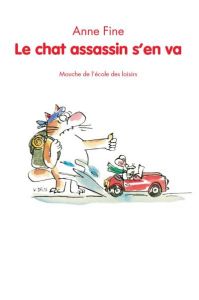 You thought you already had? Is that because you've read the books in which he causes such awful mayhem? Well, now he's back. Not spruced up, exactly. I wouldn't go that far. Steve Cox has handed over the illustrations to Thomas Docherty, so if you think that he looks a tiny bit different, you're right. But inside he's the same old Tuffy - driving Dad crazy, upsetting Ellie, and leaving the usual trail of chaos wherever he goes.
And in this book Tuffy does go a whole lot further than usual. Find out what happens when he decides there must be somewhere in the town where he'll be appreciated more, and treated better ...
The Killer Cat Runs Away now out in paperback!
Of course, in his own way, Tuffy is a very well-travelled cat. He has friends all over the world who want to keep up to date with his adventures. His latest escapade has already been translated into French, and there are Killer Cat books in German, in Italian, in Icelandic - and more!
---