ANNE FINE
This is the official web site of Anne Fine, the second Children's Laureate and a distinguished prize-winning writer for children of all ages, with over forty books to her credit. She has also written for adults to considerable critical acclaim. This site has news and information about Anne, and showcases her books.
Twenty years of Children's Laureates
2019 marks a milestone: the 20th anniversary of the post of Children's Laureate in the UK. Join Anne - and Waterstones - to celebrate 20 years of the Children's Laureate at Waterstones Newcastle on Wednesday April 10th. Anne will be talking to Emily Drabble, the former co-editor of the Guardian Children's book site and now the Head of Children's Book Promotion and Prizes at BookTrust. Find out more, or book online, or telephone 0191 261 7757.
The job of Laureate was very new when Anne took over from Quentin Blake, but now there have been ten very different Laureates, writers and illustrators and people who do both, and that's something to celebrate. Anne was at the launch party in London with almost all her fellow Laureates (only Quentin Blake couldn't be there), and she says "It was a very merry occasion. With cupcakes and fizz." You can join in the celebrations, with Laureates events and a competition for schools - find out more on the Booktrust website.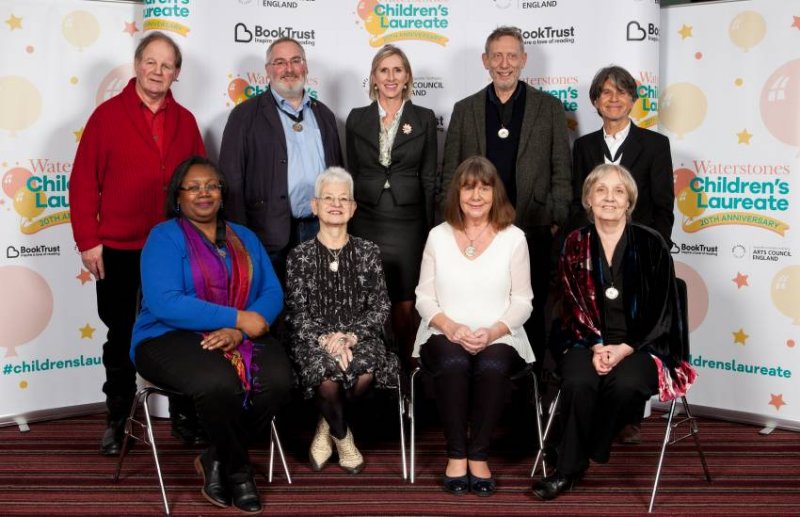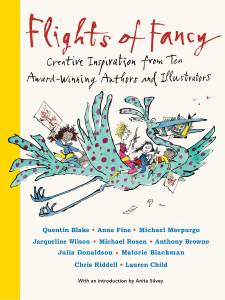 How else to celebrate but with a book? In Flights of Fancy, the ten Laureates share stories, poems, pictures, tips, and prompts meant to inspire young readers to create works of their own. Have you ever sparked the start of a story by playing a game of What if? Is there any value to all that doodling you do? What does being "a sponge" have to do with facing down a blank page? Did you know that pictures can sometimes inspire stories, rather than the other way around? From Quentin Blake's drawings of fantastical vehicles to Michael Rosen's inside look at his poetry, from Anthony Browne's shape game (no need to be an artist to play) to Lauren Child's look at her creative process, this anthology aims to encourage budding writers and artists to let their imaginations soar. And Anne tells the story of a different kind of inspiration, how she fell in love with bookplates and where she found the idea for the My Home Library project which was one of the highlights of her Laureateship!
You can read more about the second Children's Laureate on this site; or read Anne's Letter from a Laureate on the Booktrust site.
Anne and a Big DoG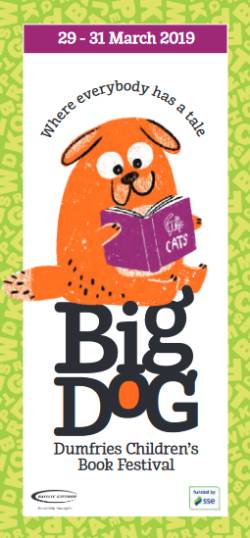 Anne will be in Dumfries on Saturday 30th March for the Big DoG Children's Book Festival. Named after Nana, the big dog who looks after the children in Peter Pan, Big DoG is an exciting family festival for Dumfries. It's the event where everybody has a tale.
Come to the Theatre Royal (Studio) for An Audience with Anne Fine: Anne will answer the questions she's asked most often, and then invite fresh ones from the audience. From the success of Madame Doubtfire to twice winning the Carnegie Medal and becoming the second Children's Laureate, explore her life in books.
More information and how to book tickets.
Tailors, Pebbles, and Other Fairy Tales

I absolutely hated this story when I was young,

says Anne.
In fact, looking back, I see that I sorted all the fairy tales into those I adored (like The Twelve Dancing Princesses, Snow White, Puss in Boots and Cinderella); and fairy tales I utterly despised.
Like this one.
The little tailor was so stupid. Stupid to be bragging about killing seven flies already stuck fast in jam. Stupid to rescue a bird from a bush, then put it in his pocket. Stupid to squeeze the cheese so hard the whey dripped out. Stupid to tangle with a giant in the first place.
But one of the things I have always loved most about this job is that you can turn anything you write into a technical challenge. So that's the way I've gone. I've told the story straight. But the reader does have to come to his or her own conclusion. Was he actually so truly resourceful and inventive that he deserved to win the great prize that becomes his at the end? Or was he just dead lucky all along?
This author isn't telling. Read the book!
Find out more about The Brave Little Tailor - and you can read about Anne's version of The Twelve Dancing Princesses, too.
For grown-ups who want a different perspective on fairy tales, Anne's Keynote speech to the conference of BASPCAN, the charity and membership association for child protection professionals is now online: it is called: Pebbles in the Fairy Tale.
Old friends revisited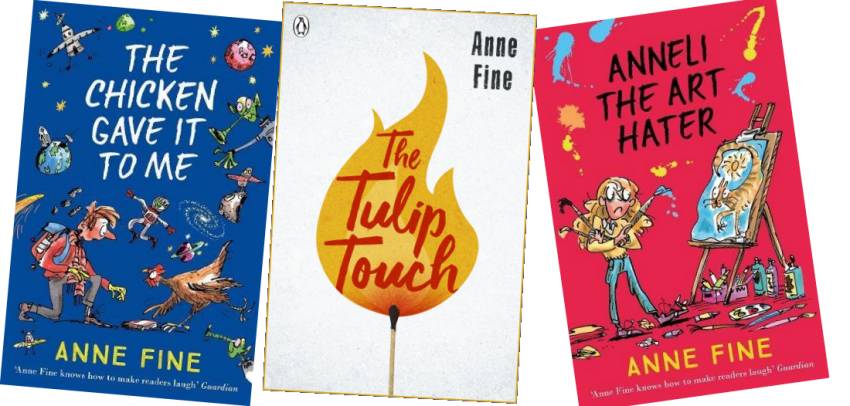 All authors get the question, "What made you write...?" Anne explains:

This week I've been sent fresh editions of three different books: Anneli the Art Hater (1986), The Chicken Gave it to Me (1992) and The Tulip Touch (1996). What a strange mix. The only thing they have in common (apart from wonderfully appealing new covers) is that they bring back the strongest memories of the reasons why I sat down to write them.
I loathed art lessons in school, and just assumed I was off-beam until it became clear that one of my daughters felt exactly the same. It's probably just ignorance on our part, I decided, and started reading about art to try to rise above the prejudice. But one of the most interesting questions that arose was why, if it's often so very hard to tell the difference between an original work of art and a forgery, the one should be worth so much more than the other. The story in Anneli the Art Hater took off from there (and I'm still hopeless at getting real pleasure from the visual arts).
When I embarked on The Chicken Gave it to Me, both daughters and a stepdaughter were vegetarian on moral grounds. My partner Richard is not. The endless wranglings over the supper table aired many of the issues. Even I, not quite veggie, was an active member of Compassion in World Farming. The book's a comedy for 6-11 year olds and it has made so many children children think more deeply about the way we treat the animals whose meat we eat or whose products we consume.
The Tulip Touch is for older readers, and is by far the most serious novel of the three, inspired as it was by the rabidly vengeful and medieval tabloid newspaper response to two primary school children convicted for murder - wilfully unthinking and vicious rabble-rousing. The novel explores the question of whether a child could ever truly be 'born bad', and how their circumstances play a role. It's commonly read in schools, where it always elicits discussion, and is now seen as a classic.

And then there's Prambusters!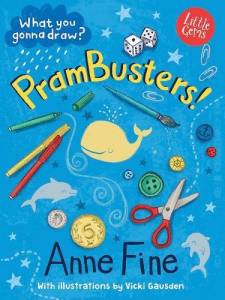 Prambusters! It's out now, looking fresh and different from any book of Anne's before it. But is it a new book?
"So hard to say," says Anne. "Way back in 1999 I published a book called Design a Pram, with the most wonderful illustrations by the brilliant Philippe Dupasquier. (If you have a copy, make sure you hang on to it.)
"A few years ago the book dropped out of print, as so many do. But the story seemed so good that when Barrington Stoke asked for a shorter, more simply written version of the tale for their own list, I jumped at the chance of adapting it.
"Barrington Stoke specialise in books for reluctant readers, and their publications are all 'dyslexia friendly'. The story, with bright new illustrations by Vicki Gausden, is simple enough. Two teams hold a competition to design a pram. One team designs the most cosy, warm, luxurious pram you can imagine. The other team takes quite a different tack with a pram that can travel at high speeds, is bullet proof, and heavily weaponised.
"The trouble is that both prams are equally good examples of design. So how would YOU go about picking a winner?
Honorary Degrees
If you've ever looked at Anne's Awards and Honours page, you'll know that as well as those two Carnegie medals, and lots of other prizes for one book or another in particular, she has been awarded several honorary degrees. In fact, she started 2017 with a degree ceremony at the University of Leicester, where she was presented with a fourth Honorary Doctorate. What's it all about? Anne explains: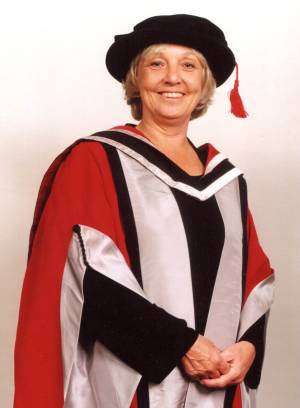 I never really grasped the point of 'honorary' degrees. After all, either the recipient knew enough to get a 'real' degree, or they didn't. Why offer one to someone who hadn't done the work?

Now I have several, I feel a good deal differently. I've realised that, as almost everyone goes through their professional life, the people around them can't help but form a view of their body of work. And if that's a positive opinion, and a prestigious institution chooses to make it both plain and public, that's inspiriting and encouraging. (After all, everyone who works hard asks themselves from time to time, "Has all this effort been worthwhile?" So it's immensely cheering to be told so openly, "Yes. Yes, it was.")

What pleases me most is that I have links with almost all the places that have honoured me. I was born in Leicester, and last week that city's university awarded me an honorary doctorate. I studied at Warwick, where I was given another some years ago. Ever since I moved to the north east, and found out how much I loved it here, I've spoken up for the area. So it was lovely to be honoured by the University of Teesside. My secondary schooling was all in Northampton, so I am especially proud of my honorary fellowship from that university. And growing up there turns me into a woman from the Midlands, so I'm proud of my doctorate from the University of Central England in Birmingham.

(Just for the record, you're given a beautifully designed degree certificate in a classy holder. And they take photos of you in the fancy official university robes and cap - I'm much less keen on those!)
---