ANNE FINE
This is the official web site of Anne Fine, the second Children's Laureate and a distinguished prize-winning writer for children of all ages, with over forty books to her credit. She has also written for adults to considerable critical acclaim. This site has news and information about Anne, and showcases her books.
Celebrating 80 Years of the Best Books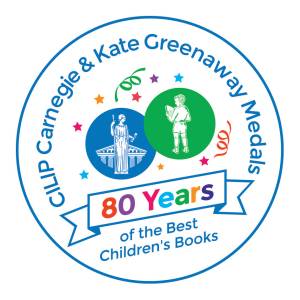 This year, the Carnegie Medal celebrates its eightieth birthday - that's a whole lifetime of rewarding the best children's books!
Anne explains "The Carnegie Medal honours the Scottish born philanthropist, Andrew Carnegie. He's the great man who endowed so many of our public libraries, and rather wonderfully said, "To die rich is to die disgraced." The prize was established in 1935 by the Library Association, and is still considered the most prestigious award an author for children or young adults can win. (I can't describe to you how proud I am to have won it twice.)"
Join the party at the My Home Library website, which Anne Fine set up when she became Children's Laureate, to make it easier for everyone to have their own Home Library. She will focus on the winning books over the last 80 years: she says "you might spot them in libraries and bookshops, maybe? take a peep? After all, each was considered the very best book of its year."
Starting on March 2nd - World Book Day! - she is looking at a decade a month. Visit often for suggestions about books to look out for, and maybe add to your own Home Library.
The True Story of a Magic Ball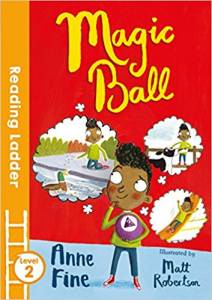 Anne Fine explains the true story behind the book:
One of my grandchildren went through a very tiresome stage of being almost pathologically indecisive. He couldn't decide if he wanted sauce on, or beside, his pasta; the chocolate or the vanilla; the blue shirt or the grey.
You weren't allowed to pick for him. "I'm old enough to choose for myself!"
But he just couldn't. He got so horribly frustrated, everyone felt so sorry for him - even his exasperated parents.
"Let us choose for you." "No! I want to choose!"
"Well, do it, then. We haven't got all day."
"I'm trying. I just can't."
On and on, as often as not along with wailing and tears.
Then someone bought him one of those toy fortune-telling balls. They have a dozen assorted answers floating around inside. You ask it a question, shake it, and read whatever floats up to show in the window at the top.
It was astonishing how often the answer that floated to the top seemed to satisfy Robbie.
"Do I want to go to the park?"
No.
"Well, do I want to go to the playground?"
Maybe.
"If I go, will I have a good time?"
Definitely.
It worked a treat. Though Robbie knew the ball wasn't magic, just a clever toy, he completely relaxed. Sometimes he did what it suggested. Sometimes he didn't, presumably because at heart he knew it was giving him an answer he didn't want.
The Magic Ball did seem, in a rather strange and unhinged way, to work as a cure. His indecisive stage was very funny, even if tiresome. But how it came to an end was even funnier.
Magic Ball is illustrated by Matt Robertson. It was published on 7th September 2017 as a Level 2 Reading Ladder title, perfect for readers who are growing in confidence and are beginning to enjoy longer stories - and if you want to know how the story ends, you'll have to read the book to find out!
Blood Family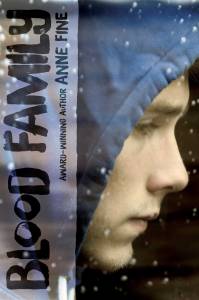 Does the past ever leave you?
Locked away by his mother's monster of a boyfriend, Edward is seven years old before a neighbour spots his pale face peering through a crack in the blocked window. Rescue soon comes, but lasting damage has been done.
Years on, it's clear to Edward's new adoptive family that something in his past haunts him still. Then Edward catches sight of a photograph that shocks him to the core.
Could there be yet another monster in his life who has been waiting to break out all along?
Blood Family is now also available in the US; a starred review in Kirkus Reviews called it "A powerhouse of a story about a boy who survives."
Blood Family won the Prix Farniente 2017 (Belgium)
Read more about Blood Family.
Honorary Degrees
And speaking of awards, if you've ever looked at Anne's Awards and Honours page, you'll know that as well as those two Carnegie medals, and lots of other prizes for one book or another in particular, she has been awarded several honorary degrees. In fact, she started 2017 with a degree ceremony at the University of Leicester, where she was presented with a fourth Honorary Doctorate. What's it all about? Anne explains: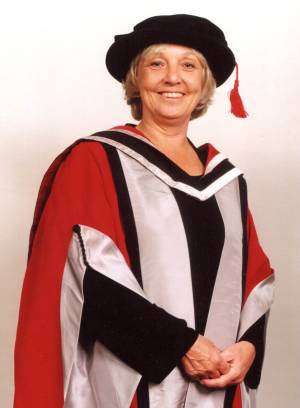 I never really grasped the point of 'honorary' degrees. After all, either the recipient knew enough to get a 'real' degree, or they didn't. Why offer one to someone who hadn't done the work?

Now I have several, I feel a good deal differently. I've realised that, as almost everyone goes through their professional life, the people around them can't help but form a view of their body of work. And if that's a positive opinion, and a prestigious institution chooses to make it both plain and public, that's inspiriting and encouraging. (After all, everyone who works hard asks themselves from time to time, "Has all this effort been worthwhile?" So it's immensely cheering to be told so openly, "Yes. Yes, it was.")

What pleases me most is that I have links with almost all the places that have honoured me. I was born in Leicester, and last week that city's university awarded me an honorary doctorate. I studied at Warwick, where I was given another some years ago. Ever since I moved to the north east, and found out how much I loved it here, I've spoken up for the area. So it was lovely to be honoured by the University of Teesside. My secondary schooling was all in Northampton, so I am especially proud of my honorary fellowship from that university. And growing up there turns me into a woman from the Midlands, so I'm proud of my doctorate from the University of Central England in Birmingham.

(Just for the record, you're given a beautifully designed degree certificate in a classy holder. And they take photos of you in the fancy official university robes and cap - I'm much less keen on those!)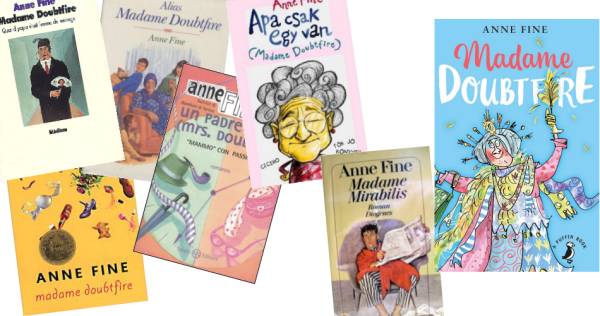 Madame Doubtfire: a modern classic

Every author secretly hopes each book they write will turn into 'a classic' - a book loved by many over a long period of time" says Anne.
"So it's a huge boost to find my novel Madame Doubtfire out on the shelves this month in a brand new format and with a gorgeously appealing new cover by Mark Beech (on the right in the montage above).
So many people of all ages love this book. I think that's because it deals so honestly with a very real family in a very difficult situation. It doesn't try to hide the problems of separation and divorce. It faces up to the ugly emotions that can so easily surface when the happy and settled life everyone in the family had hoped for hits the rocks.
But the comedy keeps the topic bearable, and the story ends with a sense that things can, and will, get better for everyone. It's a message so many people have needed since the book was first published in 1987. I'm proud it has become a Puffin Modern Classic. It's a lovely fresh facelift I hope will bring in a whole new generation of readers.

Listen to Anne on Woman's Hour talking about the new Puffin edition of Madame Doubtfire, reading, writing and who looks after the cello.
Read more about Madame Doubtfire.
The Killer Cat Runs Away

So what if I broke the new TV? Got fur on all Dad's clean clothes? Ate Tinkerbell the kitten's special kitten-food?
All accidents!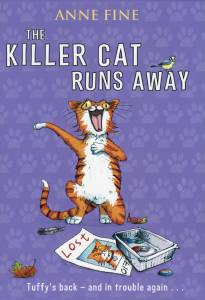 Meet Tuffy, the Killer Cat.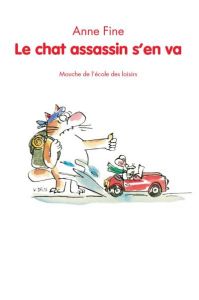 You thought you already had? Is that because you've read the books in which he causes such awful mayhem? Well, now he's back. Not spruced up, exactly. I wouldn't go that far. Steve Cox has handed over the illustrations to Thomas Docherty, so if you think that he looks a tiny bit different, you're right. But inside he's the same old Tuffy - driving Dad crazy, upsetting Ellie, and leaving the usual trail of chaos wherever he goes.
And in this book Tuffy does go a whole lot further than usual. Find out what happens when he decides there must be somewhere in the town where he'll be appreciated more, and treated better ...
The Killer Cat Runs Away now out in paperback!
Of course, in his own way, Tuffy is a very well-travelled cat. He has friends all over the world who want to keep up to date with his adventures. His latest escapade has already been translated into French, and there are Killer Cat books in German, in Italian, in Icelandic - and more!
---